First Posted
: September 8
th
2008
Layout Style
: Smooth Sailing
Best view
: 1024x768 and higher
Browser(s) Compatible
: Tested with FF and IE7
Work with Nav bar?
: Yes
Work with Ads?
Yes but I would use horizontal only
Credit
:
writing_light
or
losing_light
somewhere in your journal please
Notes
: This layout requires both a title and subtitle to work correctly.
Crossposted
:
mintyapple
and
freelayouts
Preview
: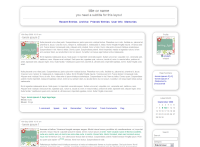 Live preview:
Recent entries
*
Archive
*
Tags
*
Custom Comments
Image(s)
: All the images are hosted on my Photobucket account. If you'd like to host them yourself, here are the direct links.
Title and menu box
Entry top
Entry middle
Entry bottom
Sidebox top
Sidebox middle
Sidebox bottom
Footer
Comment navigation and Comment bar
Main poll bar
Right poll bar
Left poll bar
mini icons from the
Icon Archive
.
Private user icon
Community user icon
User icon
Friends locked icon
Friends filtered icon
Directions
:
Go to
Customize Journal
Choose any Smooth Sailing layout
Choose sidebar on right
Hit Customize Selected Theme
Under display choose Additional options and the Yes for Wrap Entry text under userinfo Save Changes
Choose Custom CSS
Make sure both drop down boxes say no
Copy the overrides in the box below and paste them into the Custom Stylesheet hit Save Changes
If you would like to add a header, find /* Add your header here */ in the overrides and follow the directions. The header will appear below the title/menu.
Overrides
:
Music: the pilot episode of Fringe